Being eaten, as you know, is very painful. You just wish they would hurry up and eat you all up. I'm afraid I can not speak anymore because I'm very nearly eaten.

from 10 Year old Anya's story
Anya was a Y6 girl who had become a selective mute in the classroom following traumatic events at home where she now lived with just her mother and sister.
Her classteacher said she would not speak to her even to say yes or no and mostly would just sit and not attempt her work at all. The most response she would give was a shrug of the shoulders. At times she would become completely stubborn and have uncontrollable temper tantrums which led to the teacher having to remove the rest of the children from the classroom on a couple of occasions.
Her mother shared that Anya had witnessed a serious traumatic incident at home a few years previous and that she also had tantrums at home. She had been referred to a therapist out of school but would not speak during these sessions and they were discontinued after a few visits.
In the first group session Anya attended she did not speak and when I asked her to get her writing equipment, she didn t move. I asked her gently again if she could get these whereupon she became tearful. I thought she might be unwell and took her to the medical room. However, 10 mins later the secretary came in to tell me that she was having a tantrum – hysterically screaming and kicking the wall.
The second week she arrived but would not sit down with the rest of the group. When I approached her to quietly ask if she was alright, she physically withdrew and hunched up her shoulders. Again she had tears in her eyes and looked frightened. I told her that it was OK for her to stand there and that we would just get on with the lesson. I pointed out that there was a seat next to me when she was ready to join us. I was impressed at the ability of the other group members to accept this and continue the group work without comment.
The next week Anya came in and sat next to me. The group was writing their own stories based on a well known fairy tale. While Anya again did no writing she appeared to be listening to the stories that were shared. Another session went by when Anya again just came in and silently sat next me. However the next week she picked up her pen and wrote the following story based on the story of the Three Bears: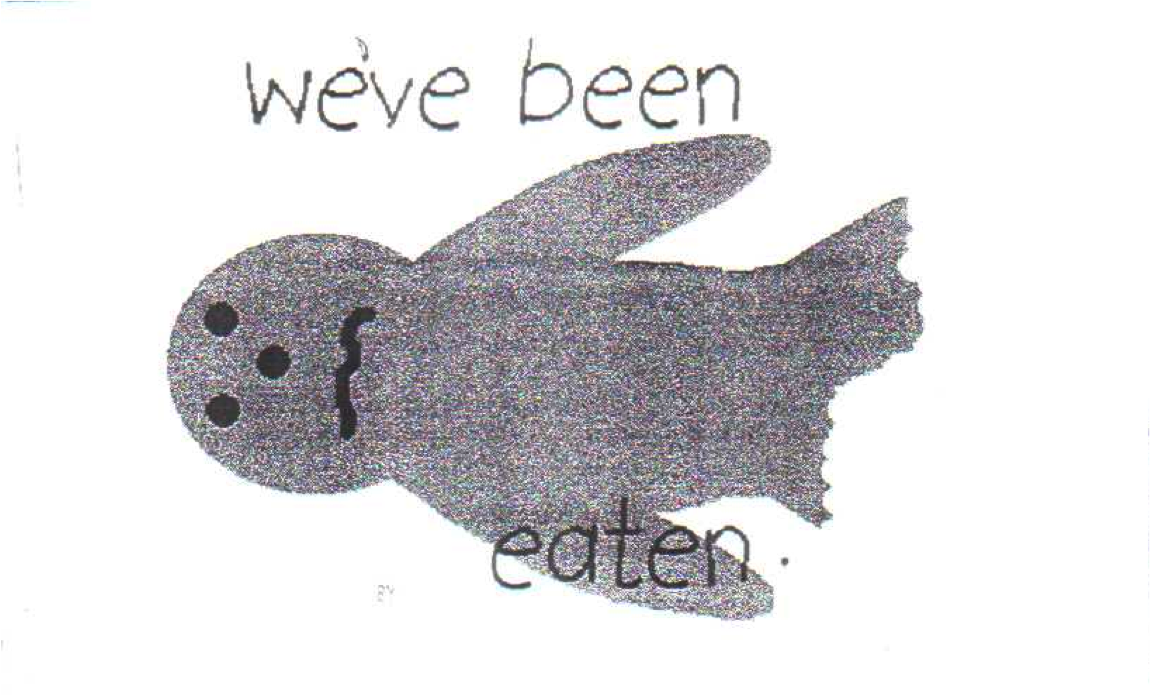 Hello I am Ginger bread 1. We were just asleep on the table after eating dinner. We could not go to bed. We were too tired even to walk upstairs. Suddenly a girl jumped in through our window which made me wake up but I lay still just in case.
She fell asleep in baby bread's bed, woke up and tried out my bed and ginger bread 2's bed. Then she sat on baby bread's chair and broke it. After that she rejected my chair and Ginger bread two's chair.
Then she started nibbling baby breads toes and up and up and up. So now baby bread was eaten. Then she ate gingerbread two- and now she is eating me. She is eating my little toes and now is up to my knees.
Being eaten, as you know, is very painful. You just wish they would hurry up and eat you all up. I' m afraid I can not speak anymore because I"m very nearly eaten.
The story was made into a finished book and the children asked to do an illustration for the cover at home. Anya brought in the picture above and speaking to me for the first time in 4 weeks told me in a whisper that she had done on her computer at home. Nothing else was said and when we went around the table sharing our stories with each other she did not want to share hers or to have it read out.
Following this session Anya became engaged with story writing and her next story which explored the theme of dying and coming back to life was five times as long, showed a marked improvement in handwriting fluency and a leap in maturity of expression. Over the following six months Anya continued to engage with writing, gradually began to speak in school and her tantrums became less frequent.